Smarter than Hootsuite. With pricing you'll love.
Switch to SmarterQueue and save over $770 every year. You'll feel right at home using SmarterQueue with all your favourite Hoostuite features on tap, just smarter.
Hootsuite plans from
per month
SmarterQueue plans from
per month
Comparison of Main Features
| | SmarterQueue | Hootsuite |
| --- | --- | --- |
| Schedule posts on multiple social networks in advance, including direct-publishing to Instagram | | |
| On-site content curation - find and share content from social feeds and image libraries | | |
| Add posts from RSS, CSV spreadsheets | | |
| Automatically recycle your evergreen content, so you never run out of posts, and get up to 10x more reach | | |
| Post a balanced mix of content with a Category-based Posting Plan | | |
| True cross-posting with the option to customize your post text for each social network | | |
| Advanced scheduling options, with queued, pinned, recurring, and recycling posts | | |
| Powerful content importer, with auto-import from RSS, browser/mobile bookmarklet, and Chrome extension | | |
| Publish the first comment with your Facebook, Instagram, and LinkedIn posts | | |
| Automatically save posts to a content library for future re-use | | |
| Accurate post previews for all networks, including Twitter cards | | |
| In-depth analytics and reports including Category-based analytics, best times to post, competitor benchmarking, and reports from your social history | | |
| Monthly plans available from | $16 .99 | $49 |
6 Reasons Why SmarterQueue Is The Best Hootsuite Alternative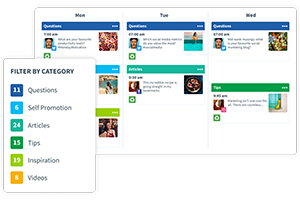 Streamline Your Scheduling with Smart Automation
Getting the perfect content balance is easy with SmarterQueue; unlike with Hootsuite, where you have to keep track of your social media schedule yourself and schedule each post manually. All your content is organised in Categories, and you have a weekly Posting Plan which lets you choose what kind of content you want to post, and when. SmarterQueue then automatically posts your content based on your chosen times, creating a balanced content plan, without all the planning. Of course, you can still schedule key posts manually; think of the Smart Queueing system as a spare pair of hands working alongside you to maintain your ideal content mix.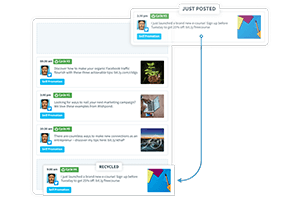 Boost Engagement With Content Recycling
Make sure every post gets seen, not wasted. SmarterQueue lets you automatically recycle your Evergreen posts, at the frequency you choose, until the date you select: giving you up to 10x more reach. We even offer Twitter-compliant post recycling. You can use our Variations feature to switch up the image and text each time a post gets recycled, which not only keeps your content fresh, but also lets you A/B test your posts. Plus, SmarterQueue retains a copy of every post forever. You can store seasonal posts, or resurrect old content with just one click.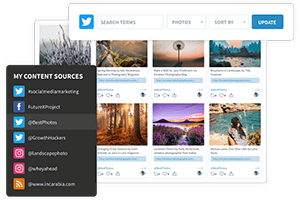 Discover the Best-Performing Content
Easily find recent, relevant, and inspiring new content that is proven to get engagement, using our content discovery tools, image search, and smart filters. Search as usual, then sort your results by likes, shares, or comments received to let SmarterQueue help you quickly discover the most engaging posts to share. Save time sharing from your most reliable sources with favourites and bulk-importing.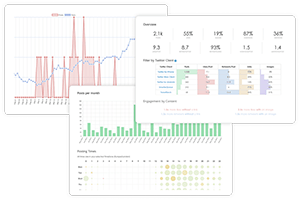 In-Depth Analytics For Data-Driven Decisions
SmarterQueue reports are easy to understand, and full of actionable insights.
Compare performance between Categories and post types, see the most effective times to post, and benchmark your performance against competitors.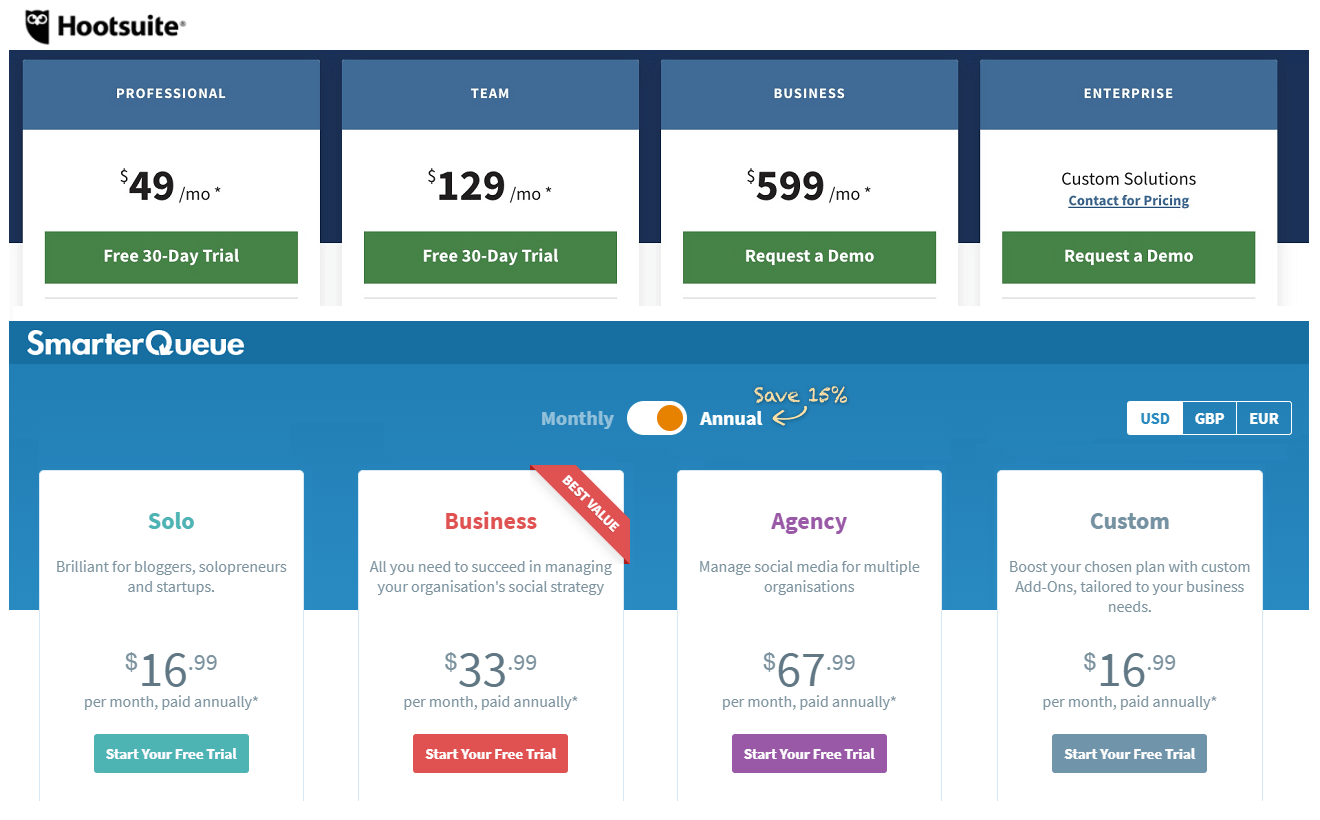 Great Prices, Custom Plans, and Room to Grow
Hootsuite's prices have kept rising for years, and now start at $49 USD, whereas SmarterQueue plans start from $24.99 USD, making SmarterQueue the most affordable alternative - without any compromises on features (in fact, you get way more). SmarterQueue's plans can also be customised to your exact needs, so you only pay for what you use, and you'll have room to grow as your business grows.
Ready to level up your social media game?
Ex-Hootsuite Users Love SmarterQueue
I honestly think it's fantastic! I love the categories, and it's far better designed than Hootsuite.

Rebecca Viner


Blogging Coach

I absolutely love using SmarterQueue. I won't be renewing my Hootsuite Pro account.

Diana von Rettig


Social Media Photographer

SmarterQueue saves me hours every week! It's one of the easiest yet most rewarding scheduling systems I have ever worked with, much better than Hootsuite or Buffer.

Olivia Widdop


Social Media Manager, Glisser
I had to stay on top of my 'automated' Hootsuite queue with a spreadsheet; it was very time consuming! I honestly had a ton of stress lifted off my shoulders when I found SmarterQueue. Now I want to grow my evergreen content as much as possible.

Maren Malmo


Teacher

I used to spend about 20-30 minutes every day crafting posts and struggling with the user-unfriendly Hootsuite interface. Now, I check the Queue about once a week but am posting numerous times a day. I'm seeing greater engagement with a lot less effort.

Courtney Hunt


Best-Selling Author

My team and I have tried Hootsuite and 3 other leading tools, and we like SmarterQueue better than all of them.
Every one of my clients who has tried SmarterQueue raves about it.
Superb customer experience too!

Kelly Diels


Writer
Switch from Hootsuite In 10 Minutes
Don't lose any of your hard work — it's super easy to migrate your Posting Plan and posts from Hootsuite.
Try SmarterQueue FREE for 14 days, no credit card required.